Have you heard of baby signing? Chances are you actually do some form of it with your baby already! Recall those gestures and actions you use to communicate with your little one during the day? Perhaps at feeding time or when they are ready for a nap.
There are actually classes in Singapore which teach you how to sign to your baby correctly. Baby signing encourages real communication between parent and child early on in development. Babies are clever at reading these signs and once you start, it's likely that you'll be surprised at how quickly they respond.
Baby signing Singapore
The Baby Signs programme run by three internationally certified trainers (and mums themselves) in Singapore, has come up with a fun and interactive way for parents to learn. They put it very well – "signing is to talking as crawling is to walking."
The classes are aimed at kids as young as 4 months to toddlers aged 2. The best age for kids to attend the classes is between 8 and 12 months old. At this age, babies are physically able to make the signs and are also starting to visibly understand simple words.
However, this shouldn't deter parents with younger babies to give it a go. One of the trainers, Kate Moreau explains:
"The younger the baby is, the longer it will take to see any results – though the baby is likely to sign earlier. This is due simply to the physical capabilities of the child. Starting the classes early requires a firmer commitment, but is easier to introduce the signs into baby's daily routine."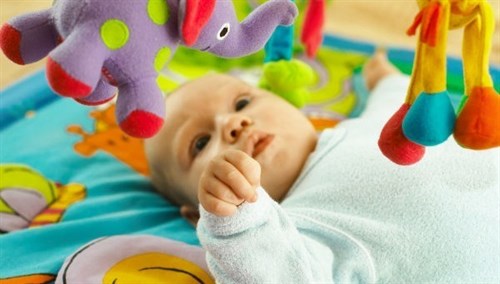 Why not give baby signing a go with your younger baby too?
Commitment to baby signing is key
Signing is not an overnight ability for babies. It may take weeks or months before seeing any gesture-like response from baby, but they will understand the actions much sooner. It's also a great bonding experience and a great way to socialise with other like-minded mums and care givers.
Kate continues:
"At 12+ months the signs are still incredibly useful, especially for a child who is frustrated by their inability to communicate their needs/wants, which is why we often end up with tantrums."
Kate runs a 6-week consecutive course. Each weekly session lasts for about 45 minutes and follows a different theme. One of the participants normally acts as a host for the entire course, adding to the intimate and social aspect of the class. Classes are small, usually only 6-8 pairs (mother or main care giver and baby).
If you are interested in joining one of these classes, please take a look at the Facebook page for The Baby Signs.
The information published herein is intended and strictly only for informational, educational, purposes and the same shall not be misconstrued as medical advice. If you are worried about your own health, or your child's well being, seek immediate medical advice. You should never delay seeking medical advice, disregard medical advice, or discontinue medical treatment because of information on this website. Kimberly-Clark and/ or its subsidiaries assumes no liability for the interpretation and/or use of the information contained in this article. Further, while due care and caution has been taken to ensure that the content here is free from mistakes or omissions, Kimberly-Clark and/ or its subsidiaries makes no claims, promises or guarantees about the accuracy, completeness or adequacy of the information here, and to the extent permitted by law, Kimberly-Clark and/ or its subsidiaries do not accept any liability or responsibility for claims, errors or omissions.
Last Published* November, 2023
*Please note that the published date may not be the same as the date that the content was created and that information above may have changed since.