Putting your baby to sleep in their cot alone for the first time may be hard especially if they haves been used to co-sleeping with you for some time.
Here are a few things you can do to help make this transition go smoothly for both parties.
Play things
During the day when your baby is wide awake, place some toys in their cot. Have your baby reach in to get the toys out. Next, place the toys back in and try putting your child in the cot too to play with the toys. Soon your baby will start thinking of the cot as a fun place and will feel more relaxed about going to sleep in it
Stuffed toys
Finding a good sleeping buddy for your baby can help them sleep in their cot. Once they see their favourite toy or stuffed animal in the cot, they will feel safer. This will help your baby to not hate their cot so much and feel secure going to sleep in it.
Be careful not to let them sleep with anything that may be sucked into their mouth as this poses a choking hazard to your baby. Experts advise not to allow them to sleep with anything that has a tie or ribbon on it, also no loose buttons or zippers. Keep your baby's safety in mind first.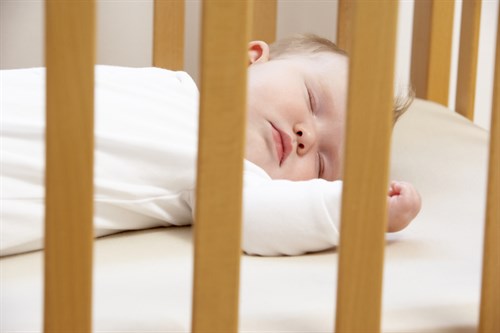 With a bit of perseverance, soon they will literally be 'sleeping like a baby' in the cot!
Don't isolate them
The first time your baby sleeps in a cot may come with some separation anxiety, especially if they have been co-sleeping with you, or is used to being carried or rocked to sleep.
Try placing a comfortable armchair in your baby's room, so you can sit there and reassure your baby that they are not alone. This way, they will still have the comfort of mummy being there, while they fall asleep in the cot.
There are many reasons why your baby might not sleep in the cot and it's good to remember that sleeping by themselves is a big step for your little one. There is no set age limit as to when you should move your baby to a cot.
So take your time and get them used to the idea of sleeping alone first before you put them into that big old cot by themselves. Good luck!
Last Published* August, 2023
*Please note that the published date may not be the same as the date that the content was created and that information above may have changed since.